The Monster Who Lost His Mean

illustrated by: kirstie edmunds
(henry holt/macmillan, spring 2012)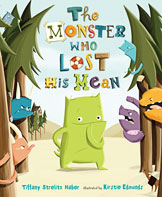 THE MONSTER WHO LOST HIS MEAN, is a fun, rhyming picture book about a monster who lost his "M." When his "M" goes missing, his "meanness" and monster friends do too! This picture book tells the story of how sometimes, when things get lost, bigger and better things can be found.
Ollie and Claire
illustrated by: matthew cordell
(philomel/penguin, spring 2013)

OLLIE AND CLAIRE is the sweet rhyming tale of two best friends who have fallen into a rut. When Claire goes off in search of adventure... she regrettably must leave someone very special behind. Is her trip worth the risk of losing a friend?